Having a cremation portrait made is a unique way to remember your loved ones with a lasting memorial through art.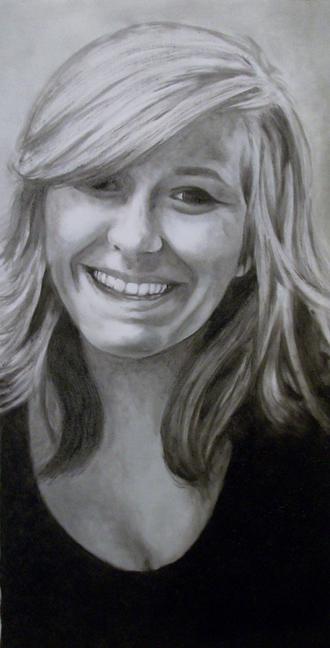 Introduction
I create fresh, vibrant images that capture the essence of your loved one using photos and information about the deceased given by you.

I have always been a practicing artist in a more broad and traditional sense. However in a conversation with a good friend of mine, Donnie Roberts, in 2009, the idea of being able to use cremation ash as a base for art in portrait painting was brought up. We were generally talking about the possibilities with art and did not assume that it was anything more than that. A year and a half later out of nowhere he was killed in a tragic accident. He had specified he wished to be cremated but nothing more that that since he was young and had not made plans for passing. After talking with his wife we knew that Donnie would have definitely wanted something as different and unique as he was. I did the first one for people that I was very close to as a way to honor the memory of my friend, and it was personal for me so I felt like I was able to really capture my friend the way he was in life.
After more people saw the painting I started to have people ask me about doing portraits of their loved ones. So I decided to make the service available to anyone. I use a process that I developed to use the ash in the way you could paint with. Using this technique the painting is composed completely of ashes and therefore is only offered in black and white, unless a different color base is requested instead of white. This is not a pencil drawing or traditional oil or acrylic painting with the ashes added to it afterwards. It is a completely new and different approach to painting altogether. It was important to me that this style was different and more personal opposed to adding the ashes post production.

If you have any questions, please
contact me
.
Standards and Cost

I approach my work with a unique perspective that takes into account your needs and your loved one's individual personality. My style and technique are broad and flexible, developed over years of training and experience. Your loved ones ashes are always handled with respect and consideration, this is very important to me that I express this to anyone considering this type of portrait. By far the best thing that I offer you is quality, and to me that is the most important thing to consider in something of this nature. Portraits are not an easy type of art to be able to pull off and capture someone the way they were in life. This is something i can guarantee 100%. You will not find anything close to this quality in this type of medium, and also at a fraction of the cost of anything somewhat similar. My motto has always been that art is for everyone and should be accessible by anyone. If you would like to know more or have questions about having a portrait commissioned please feel free to contact me. I would be happy to talk with you.